Let Us Help You Find the Right Hearing Aids
Find the Right Hearing Aids at Hearing Aid Studio
On the hunt for hearing aids? Depending on your level of hearing, lifestyle, and cosmetic preferences, finding the right type and style for you may feel overwhelming.
Our hearing aid experts are ready to help you discover the best hearing aids for your needs. We help you select the brand, model, and features that fit your lifestyle.
What Are Hearing Aids?
These are tiny devices that fit in your ear and assist in capturing the sounds around you. They amplify sound waves from other people's voices, movies, podcasts, or music to help you enjoy and engage in the life happening around you.
How Do These Work?
Hearing aids amplify sounds in three steps to restore better hearing ability:
1. The microphone picks up sound waves and converts them to digital signals.
2. The amplifier boosts the audio strength depending on the level of hearing loss and transmits it to the receiver in the ear.
3. The speaker receives the electrical audio and translates it to sounds directly in the ear canal.
The Four Most Popular Types of Hearing Aids
Rechargeable hearing aid
These are the norm these days. Most modern hearing aids are rechargeable without compromising sound or quality.
Behind-the-ear hearing aid
This most common type of hearing aid fits around the outer ear. They are versatile for different amounts of hearing loss and come in various colors, sizes, and styles.
Bluetooth® hearing aid
Modern Bluetooth hearing aids double as headphones that let you enjoy movies, phone calls, or podcasts.
In-the-ear hearing aid
This style of hidden hearing aid is Canal CIC (Completely in the Canal), best for perceived mild to moderate hearing loss, and invisible to the casual observer.
Compare the Different Types of Hearing Aids
The level of hearing loss, outward preferences, ear canal shape, budget, and lifestyle are all factors that influence what sort of hearing aid you will need.
When it comes to your hearing, it is important to make the right decision. Below is a chart that compares different types of hearing aids and the features that come with them.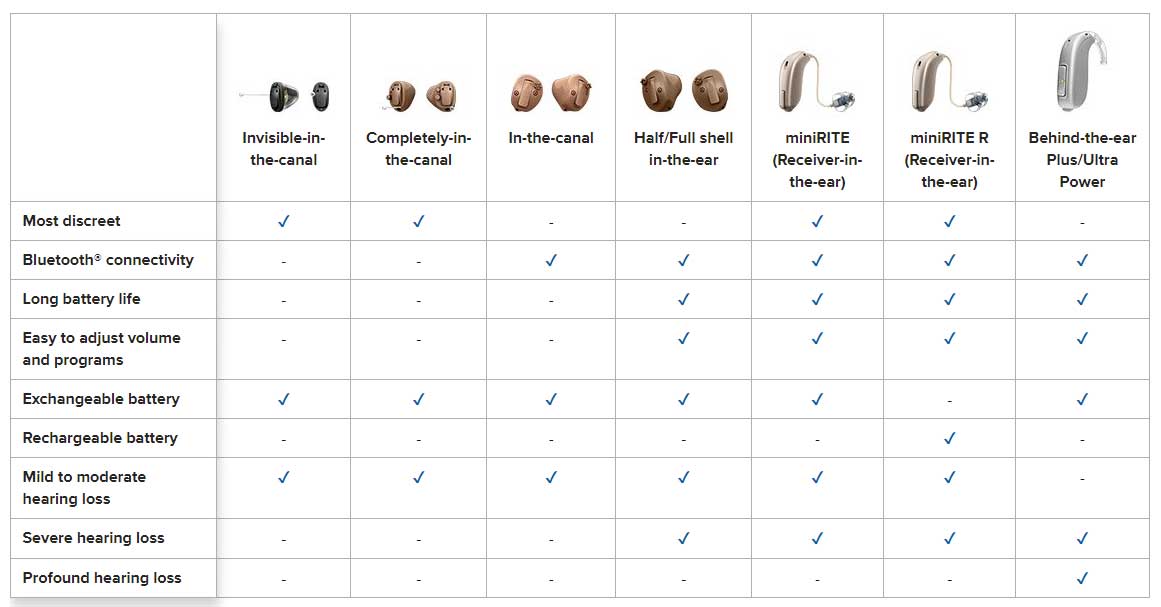 5 Benefits of Wearing Hearing Aids
1. Enjoy your life by reducing fuzzy sounds and hearing them with clarity.
2. Engage in the conversations around you.
3. Prevent the miscommunications and stress of being hard of hearing.
4. Hear what people have to say without any repetition.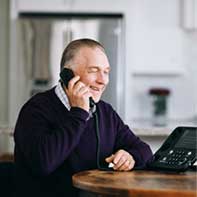 5. Enjoy phone conversations with crystal-clear audio.
Hearing Aid Models and Brands
Today's market offers hundreds of high-quality hearing aids. Searching for the right product can be overwhelming, especially when each brand and model is so unique.
At Hearing Aid Studio, we take your hearing care and hearing health seriously. We have put together a comprehensive list of high-quality hearing aids. Take a look at our options to find the best for you.
We Offer Award-Winning Hearing Aid Brands at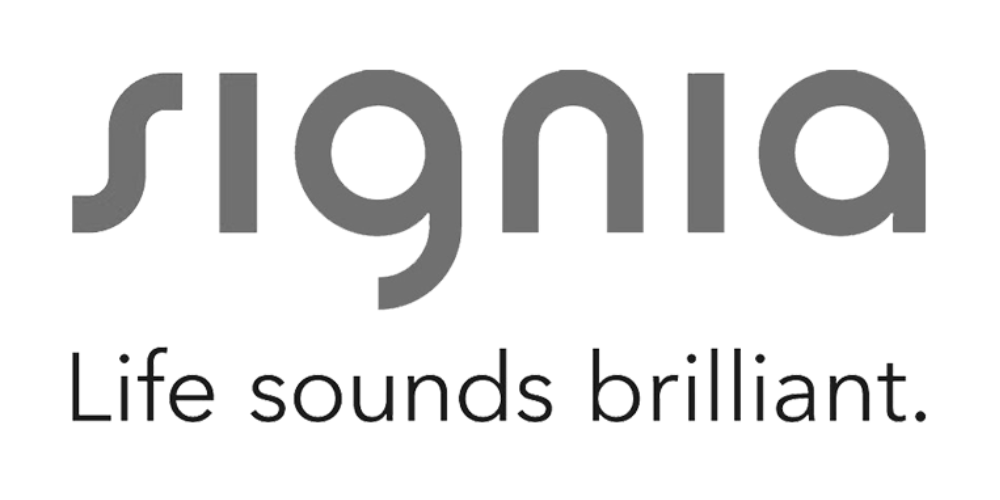 Newest Hearing Aid Features and Technology
Throughout the last decade, hearing aids have seen significant technological advancements. Hearing-aids today provide improved quality of sound, are smaller and more discrete, and include helpful, high-tech functions that simplify your life.
Bluetooth® Connectivity
Bluetooth comes built into almost every piece of tech in our modern world, and hearing aids are no exception. These can double as headphones that let you enjoy movies, phone calls, or podcasts.
Rechargeable Batteries
Rechargeable, battery-powered hearing aids have become popular over the last couple of years. Instead of buying new batteries, you can simply recharge it at your home.
Smartphone Applications
By connecting your hearing aid to your smartphone, you can adjust hearing aid settings with an app and receive text message notification sounds directly in your ear.
How to Find the Right Hearing Aid for You?
Not all hearing devices are the same when it comes to quality. At Hearing Aid Studio, we make it our mission to learn about your and your preferences to find the best custom-fit hearing aid model for you.
Your hearing range
Hearing aid technology and style
Price
What you listen to
Vision/dexterity
Comfort
Lifestyle
Prescription Hearing Aid Prices
How is our pricing different? We use an unbundled price system at Hearing Aid Studio, where the hearing aid price is separate from the professional services- so you only pay for what you need. This lowers the cost of hearing aids significantly.
Other offices combine their service package with the price of hearing aid, which leads to a substantial increase in the cost.
We work with all the leading hearing aid manufacturers, providing you with a wide range of choices of styles and brands.
The price of the device you choose will generally depend on the features and technology that are important to you. Our hearing aid specialists can find the most suitable option for you by balancing your hearing needs and your budget.
Your private medical insurance coverage may cover some or all of the cost of hearing aids, but Medicare does not cover it. We'll help you balance the benefits and costs of hearing health specifications and technologies against your requirements and budget to figure out what price point is right for you.
What Are Over-the-counter Hearing products?
Over-the-counter (OTC) hearing products are available for direct purchase by consumers with mild to moderate hearing loss. With this program, the FDA attempted to make hearing products more accessible and less costly. But for some, it might be an expensive process involving safety risks, a lack of support, and few customization options.
The problem with the OTC system is that everyone's hearing needs are unique. At Hearing Aid Studio, we conduct a thorough hearing exam to evaluate your hearing loss and help you select the best hearing products for your needs. We provide lifelong personalized attention for the full hearing aid lifespan, which you won't get with OTC hearing products.
 Features
Hearing assessment
Medical concerns
Product selection
Sound quality
Quality
Support
Fine-tuning
Prescription Hearing Aids

Hearing tested by a Professional

Addressed

Personalized

Clear, adjustable, 360 degrees

The most advanced and latest tech

Personal and virtual

As needed
Over-The Counter Hearing Aids

Online screening

Ignored

Generic

Just louder

Limited and basic

None

No adjustments by audiologists
How do I know if I need a hearing aid?
Is it difficult to follow conversations? Does it always seem as if people are mumbling? Hearing aids might be the answer. Not only can it help you hear right now, but they can also treat or slow down hearing loss.
How often should I replace my hearing aid?
Most doctors recommend getting a hearing test once a year. If you notice drastic changes in your hearing ability, schedule a hearing test as soon as possible. Whether or not your hearing is improving or worsening, replacing your hearing aids about every three years is a good rule of thumb.
Can hearing aid cause headaches?
No, it should not cause headaches. If anything, hearing aids should reduce headaches and help you use less energy to understand what people are saying. It should fit comfortably in the ear to help customers hear. If this is not the case, then you should see a hearing aid specialist to get them replaced.
Are hearing aids waterproof?
There are no completely waterproof hearing aids. However, certain hearing aid have a water resistance rating of IP68, one of the highest levels of water resistance.